◆Two Wavelengths Combiner
Specifications
Operating wavelengths (nm)

Dimension (mm)

671 (655, 635)/ 473 (457)

Transmission/ Reflection

15х15x2

Minimum
◆Three Wavelengths Combiner
Specifications
Operating wavelengths (nm)

Dimension (mm)

635 (655,671)/ 532/473 (457)

Transmission/ Reflection
15х15x2
Minimum
90%/ 10%
95%/ 5%

The setup for RGB lasers
Note: Other size, wavelength and coating are available upon request.
---
◆Customerized laser combining system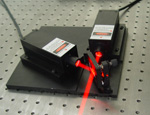 CNI can offer complete combining laser system, with the polarization beam splitter, which makes the output power double of the single laser. The system is available for both red lasers, blue lasers and green lasers on your request.