Products

Lasers

Spectrum Ana
lyzers

Laser Application Systems

Laser Measurement
Tools

Laser Marking

Fiber-Coupled Lasers & LEDs

Optics & Coatings

Laboratory Instruments

Components & Accessories
Spectrum Analysis

Fiber Optic Spectrometer

Raman Spectrometer

Fluorescence Spectrometer

LIBS

A/T Spectrum Detection System

CRDS Detection System

TRS Detection System

Probe

Laser Sources

Components & Accessories
Customer Service

TTL or Analog Modulation

Fiber Coupling

Coating Service

Laser Marking Service

Customized Products
Contact CNI
Tel: +86-431-85603799 / 89216078
Fax: +86-431-87020258
E-mail:
cniliu
@126.com
国内

:

0431-87020257 / 89216068
Raman Spectroscopy
Raman spectrum indicates the vibration and rotation information of the substance molecules, and different materials have different characteristic of spectrum from other materials--characteristic peak, which provides fingerprint spectrum for the substance characterization and identification. CNI launched Raman spectrometer with the features of compact design, high resolution, high sensitivity, simple measurement and operation, can replace the old spectrophotometer and widely used in chemical and biological research, environmental science, jewelry appraisal, forensic appraisal, food/drug safety inspection, geological exploration and many other fields.
■ Raman Spectrum System
| | |
| --- | --- |
| | |
| Build-in narrow line width laser - power adjustable, high sensitivity spectrometer - used for weak signal detection. | Simple and easy to operate; External power supply, vehicle-mounted charger; dust, water, vibration, intense light proof. |
| | |
| It combines micro system and Raman system which greatly facilitates the Raman micro area detection. | Fast connection, flexible operation. Wavelength is optional according to customer's actual requirements. |
---
■ Laser Source for Raman Spectrometer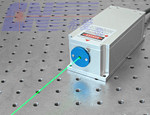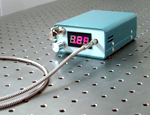 ■ Special designed wavelength for Raman spectra, such as 360, 405, 532, 785, 830, 1064 nm, etc.
■ Narrow linewidth Diode laser: 405, 785, 830 nm... (linewidth <0.03 nm);
DPSS laser: 532, 1064 nm... (linewidth <0.003 nm).
■ Single longitudinal mode DPSS laser: 360, 532, 1064 nm... with linewidth <0.00001 nm.
---
■ Components & Accessories
Raman Software

The Raman spectrum of the samples are compared with database for qualitative analysis. The database is accessible to the outside world, and has self-built database function.

Raman Cuvette

Connect the Raman cuvette and Raman/fluorescence probe, which is able to switch solid, liquid and other materials flexibly for meeting testing needs.
---
■ Sample Raman Spectrum
| | | |
| --- | --- | --- |
| | | |
| Heroin Raman spectrum | Methanol Raman spectrum | Vitamin C tablets Raman spectrum |
| | | |
| PETN explosive Raman spectrum | Tripolycyanamide Raman spectrum | Diamond Raman spectrum |