Products

Lasers

Spectrum Ana
lyzers

Laser Application Systems

Laser Measurement
Tools

Laser Marking

Fiber-Coupled Lasers & LEDs

Optics & Coatings

Laboratory Instruments

Components & Accessories
Spectrum Analysis

Fiber Optic Spectrometer

Raman Spectrometer

Fluorescence Spectrometer

LIBS

A/T Spectrum Detection System

CRDS Detection System

TRS Detection System

Probe

Laser Sources

Components & Accessories
Customer Service

TTL or Analog Modulation

Fiber Coupling

Coating Service

Laser Marking Service

Customized Products
Contact CNI
Tel: +86-431-85603799 / 89216078
Fax: +86-431-87020258
E-mail:
sales@cnilaser.com
国内

:

0431-87020257 / 89216068
Time-Resolved Spectrum Detection System
The typical application of time-resolved spectroscopy is by measuring the fluorescence lifetime of atom and molecule radiation to obtain the excited state lifetime, transition probability, collision cross section, reaction speed, energy transfer and other relevant information.
This system is based on the time domain analysis system of the fluorescence lifetime testing application. It works by using pulse laser to excite samples to generate fluorescence radiation, then measuring the evolution relation of the fluorescence intensity over time. Usually the fluorescence lifetime is at nanosecond level, some phosphor and rare earth compounds samples have longer radiation lifetime is up to millisecond level.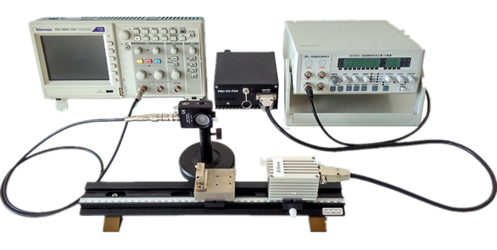 ■ System Configuration
| | |
| --- | --- |
| Diode laser | Modulation available; |
| Monochromator | Wavelength range 200-1100nm; |
| Photoelectric probe | Si substrate photoelectric detector, reaction rate 1ns; |
| Oscilloscope | Acquisition rate 50MHz; |
| Others | Sample, sample stage, photoelectric detector, signal projector, guide rail, fiber, fiber holder and light barrier; |
■ Detection Signal
| | | |
| --- | --- | --- |
| | | |
| Nd3+ fluorescence lifetime measurement in YAG | Nd3+ fluorescence lifetime measurement in YLF | Yd3+ fluorescence lifetime measurement in YAG |